G&A Martin Are Your Solar, Battery & Electrical Specialists
About Us
We are your trusted local mid north coast solar energy installation experts for over 30 years.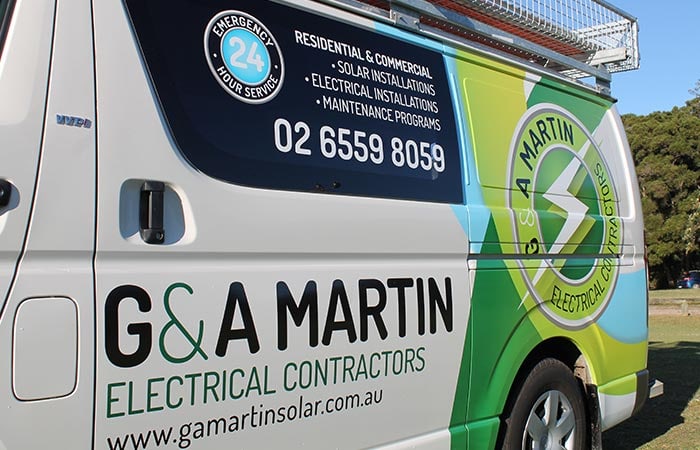 Established in 1989, G&A Martin Solar are committed to bringing the highest quality solar panel installation service and repairs to the Mid-North Coast and Port Macquarie community. With a reputation for excellence, we offer the best panels at a competitive price, ensuring you save money while enjoying the benefits of renewable energy. Our panels come with the best warranties in the industry. This gives you peace of mind and confidence in your investment.
By choosing G&A Martin Solar and Electrical for your home or business Solar installation, we handle everything from permits, inspections and interconnection, so you don't have to worry about a thing. You'll be assigned a dedicated Project Manager who will oversee all the work of your CEC Accredited Licensed Solar Electrician team and they'll keep you informed every step of the way.
All our Solar panels and Inverters are approved by Clean Energy Council.  This gives you peace of mind knowing they comply with the top-quality Australian standards.
Don't just take our word for it! We have thousands of satisfied customers in Port Macquarie; South West Rocks; Nambucca Heads; Kempsey; Taree; Forster; Laurieton and everywhere in between.
Ready to make the switch to solar and start saving money?
Contact G&A Martin Solar Today
Contact us today for a free customized quote and experience the best in solar energy installation.
Learn more: https://www.youtube.com/watch?v=SnFsuejTzSY&t=4s
G&A Martin Solar | Central Coast | Mid North Coast | Port Macquarie
At G&A Martin, we understand that every solar energy system is a one-of-a-kind solution. We take into account a multitude of factors, all fine-tuned to your specific requirements. From assessing your electricity consumption to analyzing your home's structure and geographical location, we craft a solar solution that aligns seamlessly with your energy needs.
Our team is well-versed in navigating utility company regulations, leveraging government incentives, and accounting for local geography and topography. This comprehensive approach ensures that your solar installation not only maximizes energy savings but also capitalizes on every available opportunity for efficiency and sustainability.
Ready to harness the power of the sun with a solution that's perfectly tailored for you? Contact us today to get started on your solar journey!
Take control of your electricity!
Electricity prices are sky high and set to climb even higher over the next few years. With renewable energy now less than a quarter of the cost of traditional energy sources, you can ease the pain of your power bill by investing in a solar system from G&A Martin Solar and Electrical.
By taking advantage of the Government's Solar Credit Scheme, you have the opportunity to receive substantial discounts, amounting to thousands of dollars, towards the purchase of a new photovoltaic (PV) system. Not only that, but you can also benefit from earning money for any surplus electricity you contribute to the grid. Take the first step towards a more sustainable future by selecting one of the options below and start generating your own energy and become less reliant on the traditional forms of utilities today!
Our two offices are conveniently locally based in Laurieton serving the entire Mid-North Coast of New South Wales, from Forster to Port Macquarie and all surrounding areas.  Our Central Coast Office is based in Toukley and services Sydney, Central Coast, Newcastle and beyond.