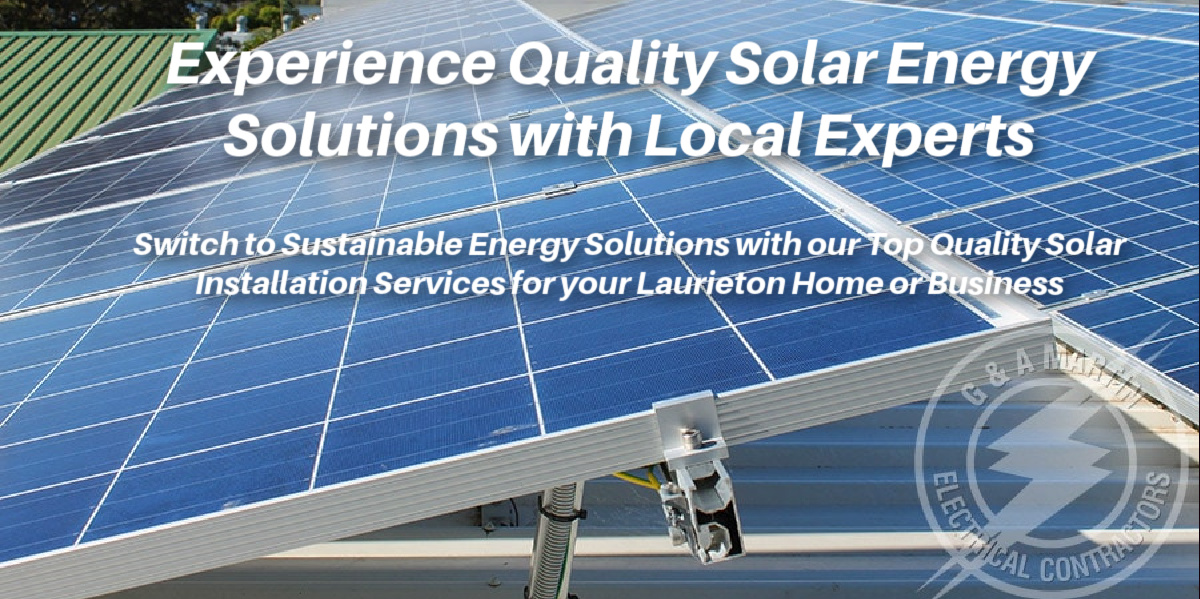 G&A Martin Solar: Your Trusted Local Laurieton Solar Experts
Deep in the heart of Laurieton, G&A Martin Solar stands tall as your trusted solar ally. Our dedicated team of seasoned technicians, rooted right here in Laurieton, is eager to assist you. Blending rich local know-how with state-of-the-art technology, we provide top-notch solar installations and maintenance tailored to our unique community's needs.
From that very first local chat to the moment your solar system gleams under the Laurieton sun, we're by your side, every shimmering step of the way. Soon after your Laurieton-special solar system kicks into gear, you'll relish the dwindling numbers on your energy bills. Beyond just savings, remember, you're also stepping up as an environmental champion, leading the way to a brighter, cleaner Laurieton.
But, solar's just one part of the energy puzzle. Want to delve deeper into energy savings? Let us guide you through power factor corrections, equipment timers, energy-efficient lighting solutions, and intuitive lighting sensors – all perfect for our Laurieton lifestyle.
Choosing us isn't merely about solar panels. It's about backing Laurieton's future, making it greener and more vibrant. Let's join hands under our local sun and lead the way!
Eager to dive deeper? Make an appointment with our solar consultant to look at ways in which you can reduce energy consumption.
Laurieton Solar and Battery Solutions
We're not just any solar provider; we're Laurieton's very own! We craft Solar System solutions perfect for our community, ensuring you benefit from cost savings, a smaller carbon footprint, and a boost in property value right here on the Central Coast.
For Laurieton homes and businesses, our bespoke solar installations promise energy self-reliance and true peace of mind. And with our renowned customer service, your transition to solar is smooth and hassle-free.
Considering a battery storage upgrade? Trust us, Laurieton locals, to have you sorted. Ensure continuous power during grid interruptions with our top-tier solar storage systems.
Sleep soundly knowing that every Solar Panel and Inverter we provide proudly bears the Clean Energy Council's seal – a mark that we exceed Australian standards.
With over 30 years lighting up Laurieton's solar dreams, we're more than a business; we're your neighbours, your friends, and your partners in paving the way to a brighter, more sustainable tomorrow. Dive into Laurieton's solar wave with us!
Better Solar Solutions. Bigger Savings. Unbeatable Warranty.
Crafted especially for Laurieton's unique vibes and climates, our solar panels boast premium quality, built to face our tough Aussie weather head-on. And to sweeten the deal? We back them with the industry's most robust warranty.
Our local crew, seasoned in the solar world, will personally oversee every step of your installation. We ensure your panels aren't just up – they're up perfectly, catching every Laurieton sunray they can.
Choosing our solar energy setup isn't just about panels and inverters; it's an investment in Laurieton's future. Slash those electricity bills, tread lighter on our beloved earth, and give your property a value nudge upwards. Dive into a brighter, more sustainable Laurieton with us!
As your local Laurieton Solar experts, we provide the highest quality solar panel installation, service and repairs, including:
Why Choose G&A Martin Solar and Electrical for your Lauriton Solar Installation?
Because in Laurieton, we're all neighbours, and YOU matter most to us!
Your peace of mind and safety aren't just priorities; they're our ethos.
Our team keeps you informed at every step, from that first Laurieton sunrise chat to the moment your panels start soaking in the sun. We handle all the permits, inspections, and interconnections so you can sit back and relax.
Our CEC Accredited Licensed Solar Electrician team aren't from cities miles away! They're Laurieton locals – ensuring authentic work without any unexpected twists.
And our solar panels? Only the best for Laurieton. Installed and serviced by hands that know and love this town as much as you do. Experience the blend of world-class tech with that unmatched local touch.
Don't just take our word for it! We have hundreds of happy clients!