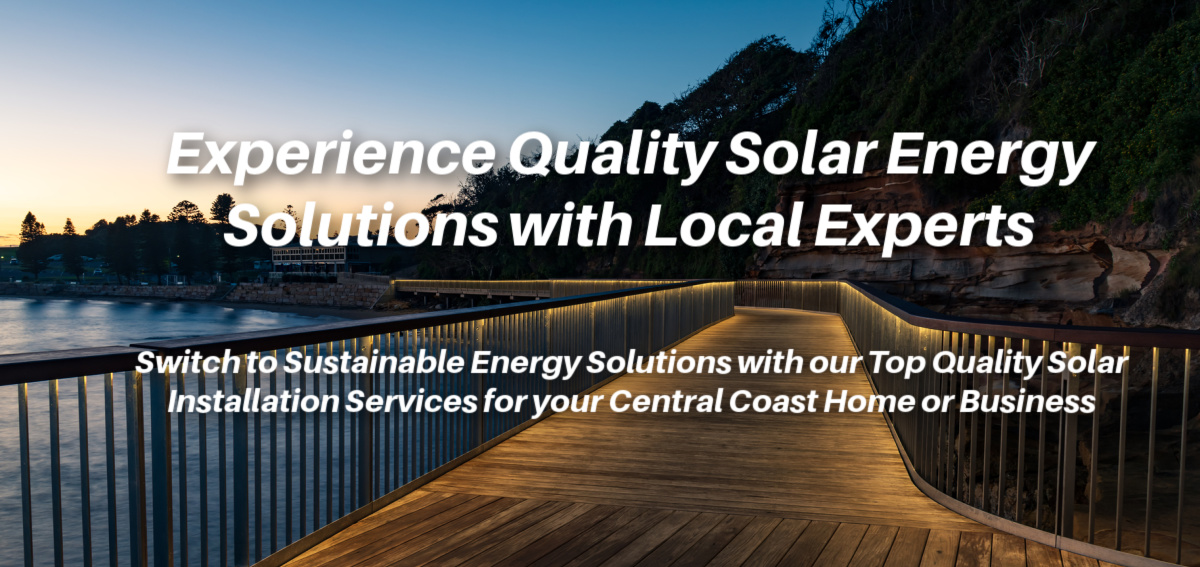 G&A Martin Solar and Electrical Are Your LOCAL Central Coast Solar Experts
Did you know G&A Martin Solar have an office right here on the Central Coast? Nestled right here on Main Road in Toukley, G&A Martin Solar is more than just another business. We're a part of the Central Coast family, bringing with us decades of expertise and a commitment to our local community.
Our squad of adept technicians, who call the Central Coast home just like you, stands ready to illuminate your solar journey. Drawing from our deep reservoir of experience and backed by cutting-edge technology, we promise to outfit your space, whether residential or business, with state-of-the-art solar solutions.
From that first, friendly chat in Toukley to the moment your solar panels catch the Central Coast sun, we pledge our unwavering support. And it won't be long before you notice the delightful dip in your energy bills, all the while knowing you're doing your bit for our beautiful environment.
Think beyond just solar panels. Need a nudge towards a more energy-efficient lifestyle? Let us guide you through power factor corrections, smart equipment timers, futuristic energy-saving lighting, and intuitive lighting sensors.
Choosing G&A Martin Solar isn't just about harnessing sunbeams. It's a declaration, a commitment to a brighter, greener tomorrow for the Central Coast. So, are you ready to join us under the sun?
Why wait? Book a time  with our solar consultant  and discover more ways to champion energy efficiency and savings!
Toukley Solar Specialists: Central Coast Solar Solutions
Nestled right in the heart of Toukley on Main Road, G&A Martin Solar stands tall as your go-to for bespoke Solar System solutions, crafted keeping in mind the unique needs and aesthetics of the Central Coast.
Whether it's the home you've grown up in or the business you've built with passion, our solar setups promise not just power, but a peace of mind that's unparalleled. And with us by your side, you can bet on a journey as seamless as the Central Coast horizon.
Thinking of advancing with battery storage? Let our experts guide you. The intermittent blackouts won't darken your doorsteps again, with our reliable solar storage solutions standing guard.
Sleep soundly, knowing that our Solar Panels and Inverters aren't just top-of-the-line, but also come with a nod of approval from the Clean Energy Council. This means they not only meet, but often outshine the stringent Australian standards.
Three decades and counting, our roots in solar solutions run deep. But to us, it's more than just business. It's a partnership, a shared dream of a brighter, greener future. Are you ready to spearhead the solar renaissance with us?
Better Solar Solutions.  Outstanding Savings.  Superior Warranty.
Right from the heart of Toukley on Main Road, G&A Martin Solar brings you panels crafted with precision. Built to brave the unique climatic challenges of Australia, our solar solutions promise endurance and come fortified by an industry-leading warranty.
Our seasoned crew, deeply rooted in the Central Coast, is committed to ensuring that every panel is perfectly positioned and seamlessly integrated. They've perfected the art of efficient solar installations, with a touch of local familiarity that only a Toukley-based team can provide.
Turning to solar with us isn't just about eco-consciousness or cutting costs — though you'll experience plenty of both. It's also an investment that enhances your property's appeal and worth.
Proudly representing the Central Coast spirit, we deliver top-tier solar installation, maintenance and repairs, including:
Why Choose G&A Martin Solar and Electrical for your Central Coast Solar Installation?
You're not just a customer; you're our neighbour. Rooted in the heart of Toukley on Main Road, we prioritize YOU!
Your satisfaction, safety, and peace of mind are paramount to us. From the picturesque Central Coast beaches to its bustling town centres, we've served our community with dedication and local expertise.
Stay informed and at ease. We manage all the nitty-gritty details, from permits to inspections, ensuring a hassle-free transition to solar for you.
Trust is built in-house here. With our CEC Accredited Licensed Solar Electrician team at the helm, expect no outsourcing and zero unexpected turns.
Experience world-class solar panels, handpicked for their quality. And the best part? They're installed and serviced by people who understand Toukley's unique charm and needs. Dive into a blend of global quality and local expertise with us!
Don't just take our word for it! We have hundreds of happy clients!